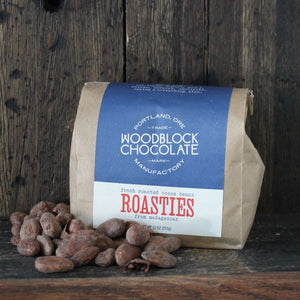 Roasties
Regular price
$ 16.00
$ 0.00
Madagascar cocoa beans + Royal No5 roaster + perfect timing = Roasties!
Want pure cocoa perfection? Grab a Roastie, peel back the hull and eat the nutty roasted seed therein (eating the hull is not recommended. It doesn't offer much flavor and is hopelessly woody on the tongue.). You can also break the seeds into nibs and use them where you might use nuts: in a salad, a rub, ice cream, cookies, in a pan-fried pb+j!! Or just throw some in your pocket and nibble on them throughout the day to remind yourself that life can be good with a pocketful of Roasties.
Free shipping on orders over $100.00 (domestic orders ONLY)
Email us
 for international shipping rates.
---
Share this Product
---
More from this collection